By Dr. Alexis Sánchez Ismayel, Dra. Omaira Rodríguez, Dra. Oriana Salmó
Today, robotic surgery is no longer science – fiction to become a reality. Robot-assisted surgery is an innovative technology that has been created to seek the maximum benefit to the patient, with numerous applications in the field of urology and general surgery.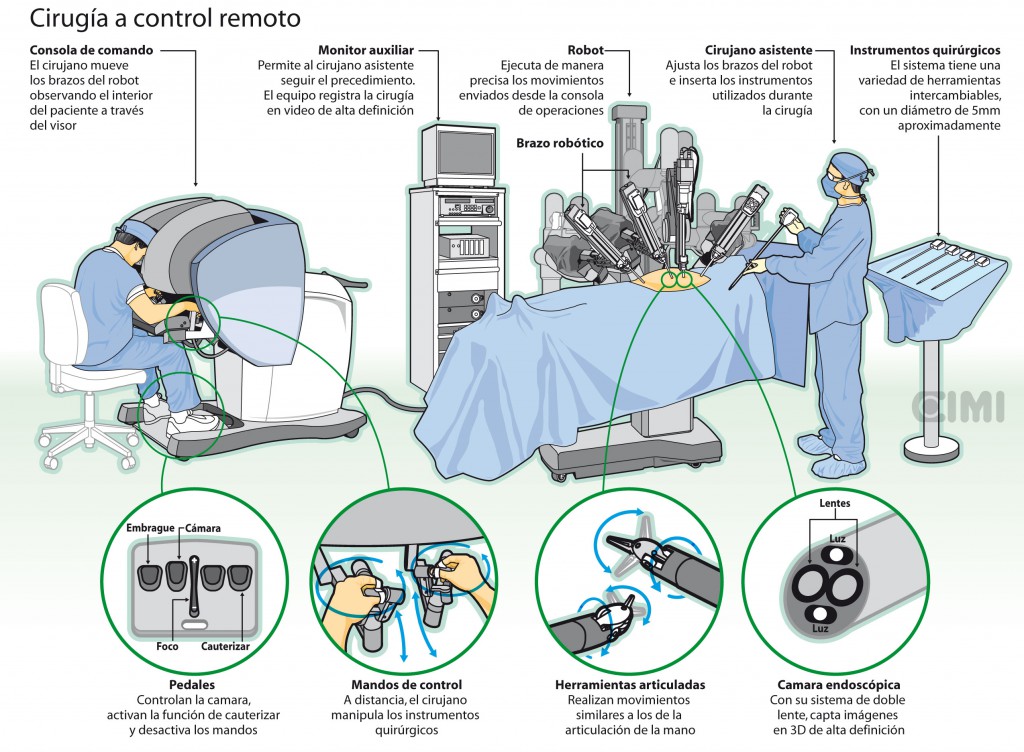 What are the advantages of robotic surgery?
Robotic surgery only complements or enhances the surgeon's skills, transforming human movements in highly stable, precise and delicate robotic movements. For these reasons, the surgeon remains the leading and most responsible for the operation being performed.
Among the advantages of the robot including:
-Provides Optimum dimensional surgeon and the surgical field magnified view.
-Allows A greater range of motion, which facilitates the realization of complex techniques and allows access to difficult places.
-Provides Greater precision when performing movements, since the robot removes the natural tremor of the surgeon's hand.
The surgeon is sitting at the console in an ergonomic position, which reduces fatigue.
Robotic surgery and a single port what is it?
Conventional robotic surgery involves making small incisions in the abdomen through which the necessary instruments are inserted to perform the procedure, which is performed with the surgeon sitting at the console making subtle movements of fingers and wrists that result in movement of the arms of the theft. When we talk about single-port (or single port) robotic surgery we mean that where a single incision surgery is used to address the abdominal cavity, reducing the damage of the abdominal wall to a minimum and providing an optimal aesthetic result.
How the single-robotic surgery performed?
Thanks to the robot Da Vinci® Surgical and new material designed for the single-robotic surgery, the benefits of robotic surgery aforementioned benefits to be realized by a single incision are added.
Consequently, it was necessary to design special, flexible instruments which remove shock between the clamps originates inside or outside the abdominal cavity. These instruments have allowed the development of a suitable technique that overcomes the difficulties associated with the intervention by single port, allowing maneuvers with a greater degree of freedom and precision, eliminating the product of the collision between instruments conflict.
What are the advantages of the single-robotic surgery?
The main advantages of the single-robotic surgery, compared to the conventional laparoscopic surgery, consist of:
-Óptimo Aesthetic result, since only a single incision, which is usually located at the level of the umbilicus is performed.
-Less Postoperative pain.
-Less Amount of blood lost during surgery.
-Quick Reinstatement of blood lost during surgery.
-Satisfaction Staff of the results obtained.